How will an auto transportation company handle my vehicle if it is a large one? Is it going to affect the price I need to pay to transport it?
Yes, in the car shipping business size does matter. If your vehicle is in the LARGER section it means that it will cost more than smaller vehicles to transport along the same route. Minivans, trucks and utility vehicles are all larger than a regular cars. Not only bigger in size but also are much heavier. Large vehicles are much more difficult to load on and off a car hauler. It takes many years of experience to be able to place a vehicle like Ford F150 on a car hauler. Transporting such large vehicles can put more drag on the auto transport truck they're being shipped on (as we all know those trucks are not HIGHLY aerodynamic). Due to the fact that large vehicles are much heavier than regular cars, the diesel consumption of the truck will be much different. More weight on the trailer will cause at least a 25% increase in fuel consumption (which can be thousands of dollars). That's why we offer one of THE BEST offers regardless of your vehicle size. At Van 3 Auto Transport we know that we have to ship vehicles at reasonable prices in order to keep our 100% customer satisfaction. You can get the best car shipping quotes by visiting our user friendly website at www.van3autotransport.com and use our shipping calculator to get one of THE BEST PRICES for transporting your vehicles.
In the auto transportation industry, shipping larger vehicles can be a long and stressful. The main reason is that they are harder to load and unload, almost all of them are taller than average vehicles like vans, minivans and cargos. The additional height that larger vehicles add to our trucks makes it impossible to for out trucks to go under some bridges. This leads to complications for the truck drivers trying to get in or get out of certain areas, which is why this kind of shipment is more expensive. Tall vehicles may cause problems when they are loaded on the carrier because they are harder to fit on the trailer, especially if there is more than one of them.Vehicles that are lifted (have lift kits or modification) are more expensive to transport. Customers should tell the car shipping company about these modifications before the car is picked up so that the transportation company can send a truck with the proper equipment. If you do not tell the transportation company that your vehicle has been modified, this may cause a big problem. The trucker may not be able to pick up your vehicle and this could mean that your vehicle will not be picked up within your desired time frame.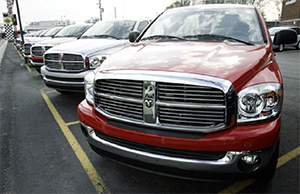 Deciding shipping something that's tremendously tall (construction pieces equipment) it will require a flatbed transporter carrier. Minivans, cargos and trucks (even if they are lifted somehow) require just a standard open carrier, but some of them are somehow bigger for a regular shipping to handle. Flatbed transportation is something that is EXTREMELY specialized and simple it's not something available upon request. Flatbed transportation is the most expensive one and it requires some time to be set up. If your vehicle requires flatbed transport be prepared to wait some time and the most important thing: to be patient.
VAN 3 Auto Transport offer vehicle shipping services in ALL 50 STATES. We work with all type of clients regardless of their vehicles size. Do not hesitate to ask any questions related with your vehicle transport and safety our welcoming and friendly employees on our 24/7 call center: (708) 357-8698. Choosing VAN 3 Auto Transport you will get reliable auto transport service, accurate pickup and delivery times, as well as a reasonable price.