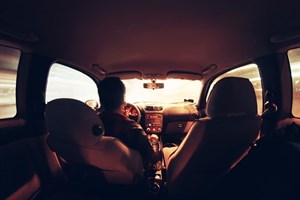 Are you worried about your own safety while taking a walk downtown? Do you feel unsafe due to a chance of getting hit by some careless driver who doesn't know the rules of the road? Well you might want to steer clear of New York, New Jersey, Washington D.C., Boston and Florida.
Those places top this year's list of the states with the worst drivers, according to a survey performed by a top insurance company. "It's discouraging to see that overall average test scores are lower than last year," said Wade Bontrager, a senior vice president for GMAC Insurance. For the past five years GMAC has surveyed more than five thousand people across America with 20 test questions taken from various state driving tests. It turns out most Americans have difficulty with some of the questions like what type of lights to use in foggy weather, what first aid and emergency kits should contain in your vehicle.
Click Here If You Want to Take the Driving Test
If the numbers from the survey were true for the entire U.S. population, it would mean that one in three licensed drivers would not pass a written drivers exam if taken today. The overall scores fell from 74.5 percent last year to 74.1 percent this year. Seventy-five percent could not identify the correct action to take when approaching a steady yellow traffic light which is to stop if it's safe and many remained confused by safe following distances. The goal of the test is to help educate drivers and people need to remember the rules because the educated drivers are the ones who are also the safe drivers.
"American drivers need to make safety a top priority and be aware of the rules of the road at all times," Bontrager said."The National Drivers Test allows everyone to brush up on their driving knowledge with a brief refresher course." In Florida for example 30 percent of traffic fatalities involve a drunk driver and in this state percentages are significantly higher than the country's average. Careless driving is Boston's biggest driving problem that needs to be resolved. Around half of the car crushes in the state are caused by distracted driving a.k.a. cell phones, Ipods and DVD players.
Why some regions tend to drive better than others? It might be because people drive in very congested areas tend to lose sight of the rules of the road. The surveys say peope who live in a big cities with large metropolitan areas tend to take public transport more often.It doesn't mean you should avoid the states with higher rates of "bad" drivers, just plan your things right and be extra cautious while you are there. Shay Tressa a statistics expert said: "Boston drivers have always had such a bad reputation. I lived there for nearly 10 years, and while Bostonians may drive fast, for the most part, they're safe, smart drivers. Florida is another story altogether. I've been in more near-miss accidents and seen more multi-car pileups in Florida than anyplace else I've lived; and if I didn't have quick reflexes and defensive driving skills, I shudder to think what might have happened. Suffice it to say that my husband sold his motorcycle shortly after we moved to Florida because he didn't feel it was safe to drive here and bear in mind, we used to ride in the Boston area! So I completely agree with the assessment of Florida having the nation's worst drivers."
In case you are wondering where does your state rank? We provide you with list how each state fared from worst to best:
51: New York
50: New Jersey
49: Washington, D.C.
48: California
47: Rhode Island
46: Louisiana
45: West Virginia
44: Hawaii
43: New Hampshire
42: Kentucky
41: Florida
40: Mississippi
39: Pennsylvania
38: Massachusetts
37: North Carolina
36: Arkansas
35: Texas
34: Connecticut
33: Illinois
32: Georgia
31: Alabama
30: South Carolina
29: New Mexico
28: Virginia
27: Ohio
26: Maine
25: Delaware
24: Colorado
23: Utah
22: Vermont
21: Nevada
20: Maryland
19: Tennessee
18: Wyoming
17: Arizona
16: Missouri
15: Michigan
14: North Dakota
13: Oklahoma
12: Wisconsin
11: Washington
10: Alaska
9: Montana
8: Idaho
7: Indiana
6: Nebraska
5: Iowa
4: Minnesota
3: South Dakota
2: Oregon
1: Kansas
For our company It doesn't matter If you are a "bad" driver or a "good" driver. We treat our customers with respect and we always give everthing in order to fully satisfy our customers. Whether you feel threatened in your state by careless drivers, or you need someone to help you avoid driving in cetrain states, Van 3 Auto Transport is here to serve you and ship your vehicles nationwide. Please log on to our website to obtain a free instant quote from our online car shipping calcualtor. It is quick and easy, and it takes less than 10 seconds!
www.van3autotransport.com
We are here to help if you have any questions from 7:00 am to 9:00 pm.
+1 708-357-8698.