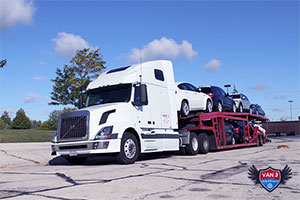 As we are looking to assist more and more of our clients, we have to find ways to grow in the auto transportation industry. With the growing demand for auto transportation companies we have to make adjustments in order to meet the needs of our clients. We are proud to announce that in November we added another Volvo Truck with a 7 Car Hauler to our fleet.
This new addition will help us ship more vehicles every month, in order to be able to assist more customers with shipping their vehicles throughout the entire country. We believe that this is only a small step towards increasing our ability to better satisfy the needs of our clients. This new addition to our fleet will help us transport addition 670 vehicles each year, which will be a 14% increase from the previous year.
"We are thrilled to offer our customers the ability to ship more vehicles with us, " – said Vlad Nikolov, the owner of Van 3 Auto Transport.
"We are extremely proud because we know that with this new addition to our fleet, we will also be able to dramatically increase the on time deliveries as well as lower the transit time by 17%."
Naturally, we will be looking to grow in the future. With the support of our customers that choose to ship their vehicles with us every time, we hope to be able to add at least two more trucks to our fleet in the first quarter of 2014." With internet car sales and job mobility increasing, we are excited about growing in the vehicle transportation industry" – said Vlad Nikolov.