Have you decided to ship your vehicle to the Northeast? Our suggestion is to reconsider your decision for now. New York, Rhode Island, Massachusetts, New Jersey and Connecticut have declared a state of emergency. Hundreds of people could lose power, and over the past few days the situation has been heavily dependent on the reaction of the local authorities.
Light snow whirlwinds started to twirl early on Monday morning in front of what the New York City mayor (Bill de Blasio) has cautioned could be a possibly "record breaking snowstorm," but at the same time it still brought the whole city to a stop. As travel bans were lifted and travel benefits progressively restored on Tuesday morning, the effect of the choice to close down the tram and request most drivers off the streets kept on being felt over the district.
For the first time in history, the subways had been shut down due to the heavy snowfall. This was the first shut down in their 110-year history in the US. There were inquiries concerning whether authorities went overboard in the event that they could have moved quicker to restore everything back to normal once the weather got better. Ceasing the trams was once incredible in any climate, however lately, it has happened a couple times, happening amid Hurricane Irene and Hurricane Sandy. Travel authorities say the moves can cause harm to many, while better situating workers to restart the trams once conditions progress.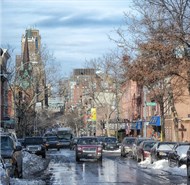 Sections of New York were forecast to see up to 20 inches of snow. A snowstorm warning was issued for 200 miles within the region, meaning heavy, blowing snow and potential whiteout conditions.It turns out that was not the case.Yes,there was a lot of snow in New York,but the storm was not as severe as predicted.
More than 6,000 flights were canceled and many of them will stay at the airport until the end of this week. Shoppers were stocking up on food in jammed supermarkets and elbowed one another for what was left. Broadway went dim. "My message to New Yorkers is to prepare for something worse than we have seen before," Said the New York City mayor De Blasio during conference. "Now is the time to get ready for this extreme weather." All over the social networks are shared pictures of empty grocery shops due to the incoming bad weather forecast and snowstorm. This storm is forecasted to last around 48 hours, and there are predictions that a new one may be coming next week, so be careful and plan everything at least a week ahead.
We strongly recommend reconsidering any auto transportation moves towards the New York metro area. If you are in New York and would like to ship your vehicle to another part of the country, please allow the car shipping company that you choose extra time in order to pick up the vehicle. VAN 3 Auto Transport specializes in transporting automobiles all over the United States. We work hard every day to provide our customers with unique and one of the best transportation experience in the industry. With our easy to access and easy to use shipping calculator (click HERE) you can book your next car shipping move in less than 5 mintues.
We have our friendly call agents on our 24/7 HOT LINE (708)357-8698.
If you have any questions don't hesitate to ask at our
e-mail:van3autotransport@gmail.com.