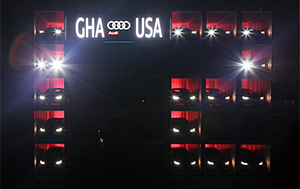 What is the world mad about these days? What is consuming a vast amount of world population's time? It's called the 2014 FIFA World Cup. It has taken everyone by storm and promises to do so for one more week.
In what could turn out to be yet another vain attempt to get most Americans to like-or even mildly appreciate soccer, Audi created a giant World Cup scoreboard made from something the country definitely loves: Cars.
This special LED scoreboard created by Audi consists of about 45 shipping containers. It has been placed at a height of over 40 feet. Though it appears like a simple LED scoreboard consisting of digital clusters from afar, on closer examination you will get to admire the beautiful handiwork of the Audi A8 LED headlights. The celebrated international auto manufacturer started keeping scores of the World Cup with the USA win. The LED scoreboard by Audi will continue to display the scores of every match live till July 14th, Monday. Audi deserve appreciation for coming up with this unique avenue to bring US closer to world class soccer.
Like our friends from Audi, we are trying everything we do to be top-notch. Summer is a very busy season for the car transportion industry, as many people relocate when their kids are off from school. If you need vehicle transportation service, we are here for you and we are always striving to exceed the expectations of our customers in order to keep our 100% customer satisfaction rating.