Imagine the feeling of finding your dream car online. It is a great feeling to be at a point in your life where you can finally afford the car you never bought because you had a mortgage and three children to put through college. When the moment finally comes it is like a dream come true. It is easier to find your dream car than ever before, all you have to do is go on the internet and simply search for it. A lot of times you end up finding your dream car in a different state. This should not be an obstacle keeping you from buying it. With thousands of car transportation companies you, will be able to have it delivered to your front door in just a few days. How do you know which company you can rely on to deliver your dream car? Here are some tips that will make picking the right car shipping company a simple process.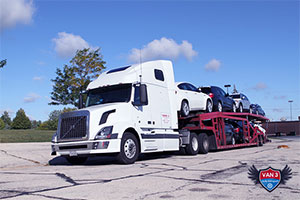 The first thing you should check when researching car shipping companies is to make sure that it is licensed and insured. If a company does not have a license or insurance it is best to avoid that given company. Once you find a company that is fully licensed and insured you can go to their web site and obtain a quote. It is best to pick a company with a great reputation and customer feedback. Do not pick a company solely based on price. A lot of times companies that give you the lowest price are not able to get the job done. These companies low-ball customers and obtain a deposit from them. Once they have the deposit they often call back the customer asking for more money in order to move the vehicle. That is why you should look at their terms and conditions before giving the car shipping company a deposit.
There are websites that are independent which can give customers a really good idea about a certain car transportation company. When you find a company that you like you can check their reputation on Transport Reviews. This website allows users to share their experience with a certain company. A company with great reviews means that it is a shipping company will get the job done right.
When you find a company that is licensed, insured, and with a great reputation you will be on the right track to have your new car transported. Please make sure that you ask if the given company does an inspection report before pick up and after delivery. An inspection report consists of a driver checking the entire vehicle for scratches or dents and notating them. If you buy a brand new vehicle from a different state this inspection report will say that when picked up the vehicle was in mint condition. Another inspection report is completed upon delivery. This time it is completed to ensure that the vehicle did not incur any damage. Please make sure that you check the car very thoroughly in order to make sure that the car was not damages while in transit. After you completely look it over you can sign the inspection report and receive your vehicle. In rare cases when a car was damaged, youl have to call the transportation company and file a claim with their insurance.
These are some of the basics that will make the car transportation process easy, fast and hassle free. If you find your dream car in another state, there are plenty of car transportation companies that will be glad to assist you by shipping it to your front door.